Cheese shop selections...
Artisan fermier cheeses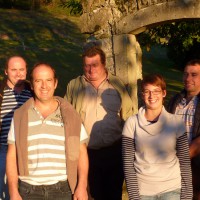 Onetik Basque Country artisan cheeses made by our farmers with raw milk from a single herd (fermier).

The farmers themselves produce these special cheeses in their high-altitude summer pastures or estives. These raw milk cheeses from just one herd are entitled to use the protected term fermier.

The artisan cheeses are collected and brought to our Macaye cheese dairy where they are aged in our cellars to develop their full flavor.