Milk farmers...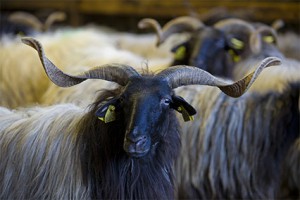 Dedicated to their work of keeping herds in natural surroundings, our farmers invest considerable energy into caring for their animals in order to produce the finest milk for our excellent cheeses. They love their outdoor lifestyle and wouldn't change a thing.
The Basque grazing prairies are home to three ancient breeds of local sheep traditionally kept by Basque farmers:
Black-Face Manech [manèche]
Red-Face Manech
Basco-Bearnaise
A special feature of these breeds is the magnificent curled horns displayed on both ewes and rams, of which their shepherds are particularly proud.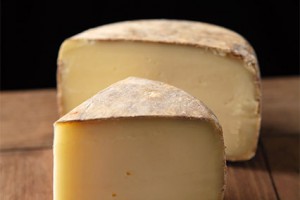 From the end of spring to mid-October, certain herds migrate into the high mountain pastures known as estives. The migration period or transhumance remains to this day a festive and memorable occasion. Up here, at an altitude between 1 000 and 2 000 meters (3000 to 6000 feet), the animals graze in pristine meadows of fragrant grass while hay is harvested on the prairies in preparation for winter.
Ewes are milked twice each day, and milk is collected daily from the farms.  The estives are too distant for milk to be transported each day, so the special estives cheese is made on site, in Cayolars, traditional mountain pasture shelters used by shepherds.
Estives cheese is by necessity made from raw milk in small batches and from just one herd, so the regulated term fermier can be used.  This full-flavored cheese develops complex aromas, and is highly sought-after by connoisseurs.