Wine & cheese pairings...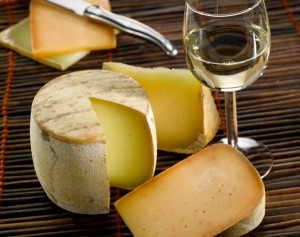 Our cheeses taste wonderful by themselves or served with traditional Basque Country cherry preserves.  They are delicious with blueberry, quince or fig preserves and go well with nuts, dates and dried figs  …
Which beverages pair well with which cheeses?
Special reserve Ossau Iraty
Dare to be different: serve a dry white Savagnin varietal from the French Jura region with this cheese.  The oxidized, nutty and caramel notes reveal iodine and woodsy aromas, and perfectly enhance the tangy terroir of our cheese!
Aged Iraty region pure Sheep Milk
Why not stay close by and serve our cheese with local Irouleguy red wine. This hardy Tannat varietal grown in Basque Country offers a powerful tannic punch with distinct fruitiness featuring black cherries and spices.  If you've never tried this pairing, you are missing out on something special!
Pure Sheep Milk Basque Bleu
To match the intensity of our Bleu des Basques, choose Maury, an AOC fortified wine (vin doux naturel) from the Eastern Pyrenees department. The sweetness of this red wine balanced by strong tannins harmonizes perfectly with bleu des Basques.
To bring out even more complexity, opt for a « rancio » wine with oxidized notes.
Pure Sheep Milk with Espelette pepper
This unique flavor with its surprisingly long and aromatic bite is well suited to wines made from the Cabernet Franc varietal found in Loire valley wines such as Chinon.
Choose a young and fruity Chinon without too much tannin.  Notes of spice, red fruits and minerals will balance perfectly with this cheese.
Raw milk Ossau Iraty
To match the complex flavors and slightly salty zest of this cheese, pair with a sweet white wine from Jurançon. The exotic notes of apricot and pineapple will intensify the creamy texture and honeyed flavors of this pairing.
Pure goat milk cheese
The firm texture of this cheese with mineral notes goes well with a dry white wine such as Sancerre. Marked by the the chalky soil of its terroir, a young Sancerre will make a bold statement, pure and memorable.
Pure cow milk – great Basque
With its pronounced flavor, this cheese is wonderful served alongside an amber ale. The slightly smoky and toasted flavors will surely seduce your palate.
Pure cow milk – Heart of Basque
The mild, creamy and buttery overtones of this cheese are best combined with a young (less than 5 year old) Muscat de Rivesaltes – AOC fortified wine from the Rousillon region of France. The explosive, exhuberant aroma and well-balanced sweetness make this an ideal pairing.
Sheep and Goat cheese
This cheese reveals interesting flavors served alongside a light yet aromatic Belgian pilsner with yeasty overtones.
Try something special and unique: Cider, green tea or a smoky tea!
Happy tasting.