Basque Country...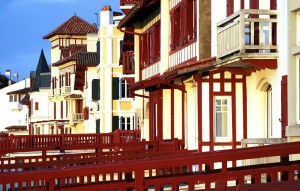 French Basque country lies north of Spain between the Pyrenees Mountains to the south and the Atlantic Ocean to the west. In winter we enjoy magnificent views of the blue ocean contrasting with the white mountain peaks.
Our villages feature white stucco farmhouses with green or red shutters. The origin of the famous Basque red was a stain made of olive oil, ochre and ox blood used to protect wooden doors, shutters and timbers from insects and moisture.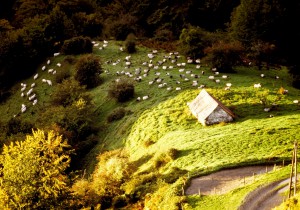 Between villages and hills dotted with flocks of sheep, ancient forests provide a verdant and peaceful countryside enjoyed by numerous hikers and tourists.
Last but not least are the men and women who keep Basque traditions alive and perpetuate our culture. These men and women continue to speak and teach Basque, the oldest European language, unique in the world.
Basque country is a one of a kind region, distinctive and authentic, where you can discover ancient traditions preserved alongside remarkable landscapes and an exceptional culinary  heritage!